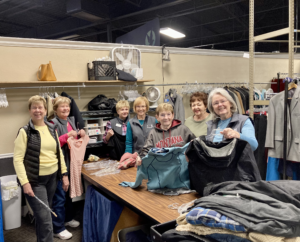 Thrift Store Treasures
Are you someone who loves finding unique pieces for your wardrobe or home decor while also supporting a good cause?  Then Hope Thrift Boutique is the perfect place for you!  This thrift store, located on SW Higgins, not only offers a wide variety of clothing, accessories, and home goods but also works to give back to the community through its charitable efforts.
When you first walk into the store, you'll be greeted by friendly staff and a bright and welcoming atmosphere. The racks of clothing are organized by color, making it easy to find what you're looking for, and there's always a new selection of items to browse through. Whether you're in the market for vintage dresses, designer handbags, or trendy statement pieces, you're sure to find something that catches your eye.
But what really sets Hope Thrift Boutique apart is its mission to serve the community.  As part of Hope Rescue Mission, all of Hope Thrift Boutique's profits are used to serve, rescue, and transform those in need.  100% of the proceeds stay right here in Missoula!
In addition to its charitable efforts, Hope Thrift Boutique also hosts a variety of events throughout the year, such as weekly tag sales, raffles, Dollar Days (a local favorite!), parking lot sales, and giveaways. These events not only bring the community together but also provide an opportunity for customers to get creative with their thrift store finds.
Another great thing about Hope Thrift Boutique is its commitment to sustainability. By shopping at a thrift store, you're helping to reduce the amount of clothing and other items that end up in landfills. And with the store's emphasis on quality and longevity, you can feel good about investing in pieces that will last for years to come and support those in our community.
Overall, Hope Thrift Boutique is more than just a thrift store. It's a place where you can find unique treasures, support a local non-profit, and connect with your community. So next time you're in the mood for some retail therapy, why not give thrift shopping a try and see what  Hope Thrift Boutique has to offer?